Māra kai
— Orākei, Auckland
Ngāti Whātua Ōrākei's long term plans for the heart of their Whenua Rangatira in Orākei, Tāmaki Makaurau is an example of ambitious sustainable design practice in action.
With the world seeking ways to create sustainable urban environment this approach to land management is a prototype many will be looking to for answers.
While the project has many layers to its long term aspirations, at the heart of its beginnings is the māra kai.
The seed of this idea has been carried through from generations looking to return wellbeing and autonomy to their whenua and has taken many decades of long term vision to be able to spring into action when the time was right.
Now for the first time in over a century traditional crops such as kūmara are thriving and feeding the community in abundance.
With the long term vision in place, the design for 'Ngā kite hauora nō Ngāti Whātua Ōrākei' was developed by Robert Small in collaboration with Ngāti Whātua Ōrākei. His vision was drawn from a desire to connect a contemporary vision with longstanding cultural values of te ao Māori to create a productive and active space. Looking beyond a pākehā view, there is a depth of gardening history in Tāmaki Makaurau to draw on that offers a strong foundation that aligned with the ambitions of the iwi to return to living in a sustainable way with a vision of the future that extends beyond an individual's horizons.
Volcanic stone is introduced in the māra, a reference to its importance in māra, kāinga and landscape architecture in the region for many centuries, carrying forward these architectural traditions and speak to the fertility of Tāmaki Makaurau's rich volcanic landscape.
Beneath the structure of the garden the tradition of Maramataka ensures the gardens success. This long-standing science which links rigorously proven seasonal shifts and signals with productive cycles is used to ensure the garden is in sync with the natural patterns unique to this region.
The scientific understanding of the mauri, or life-force of a garden, being more complex than just the crops themselves is embodied in the modern term 'Hua Parakore'. This agriculture system is similarly aligned to a pākehā practice of organic gardening or biodynamic gardening which understand the complex microbes and surrounding insect-life that supports a garden and how short lived chemical responses to these complex systems affect the overall productivity. This is supported by the diversity of crops in production which in turn affects the wellness of the community by offering a seasonally aligned diverse diet without chemicals and rich in healthy microbes and bacteria.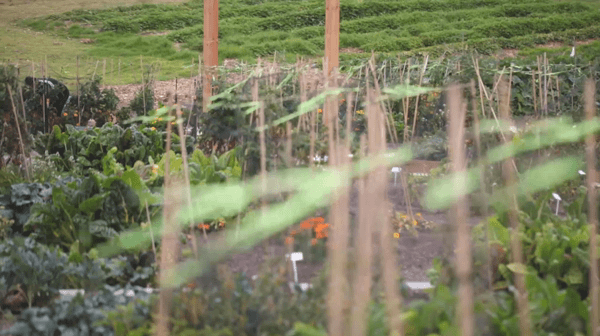 Project details
Location
Te Pourewa
Orākei
Auckland
New Zealand
Designers
Photography
Neeve Woodward